Naval Air Station Brunswick 2007 Air Show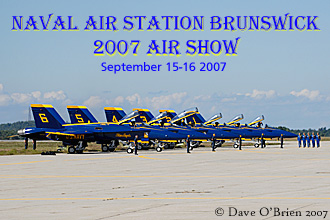 2007 NAS Brunswick, Maine. Sept 15-16 featuring the USN Blue Angels
I couldn't make it up during the weekend and with fears this could be NASB's last air show thanks to BRAC I want to atleast watch practice day. Jim Baccon & I arrived with the Super Hornet in the air, clear blue skies and temps in the 60s. We decided to hit some of the statics before too much was set up around them. We caught the C-5 being set up for display. Moved on to the Stallion, Hawkeye and the Super Hornet
This brought us over near the hot ramp area where we caught the Dragon trainer taking the active runway. This was my first time seeing this plane, very cool paint job on it's nose. Next up was the P-3 demo and another act I haven't seen yet. Randy Harris flys a Red/White/Blue Skybolt 300, a beautiful aircraft to photograph! He put on a very nice practice and later went up with John Klatt. Then John was able to perform his solo practice for everyone. Greg Shelton and Wingwalker Ashley Battles took the air box next. This was only my second time seeing them perform.
The Geico Skytypers took to the air next, coming off just loosing a member down at Oceana, it was great to see them still wanting to perform. Ed Shipley and the F-15E Strike Eagle demo team started up their jets for practice. Ed took off first for his demo in his gleeming F-86 Sabre. It's amazing how low he gets this jet on his photo pass, it makes your heart drop as he goes by
Once Ed was done with his practice solo demo the Strike Eagle team of Jewel and Woody launched their mighty Strike Eagle. They performed a few passes from both left and right before setting up for a photo pass. After they passed show right they were pulling behind the crowd they had a bird strike. They called off the demo and had Ed Shipley fly over and check them out. They were cleared in and had the emergency crews out just in case. Jewel was able to land it safely and shut it down at the end of the runway. The practice was on hold till the airboss gave the okay. Ed Shipley posted some pictures of the damage on Air Show Buzz
Rob Holland took the box and then the Golden Knights arrived but didn't do a practice jump. Fat Albert went up followed by the Blues. The layout of NASB is such that you are shooting into the sun during the afternoon so it was difficult to get any decent shots, but allowed me to sit back and enjoy their show without looking through a camera lens.
I was upset that I couldn't make it up to the show either Saturday or Sunday especially thinking this was going to be their last show held at NASB. But according to this years air show boss, LT Cash Castillo, they are seriously thinkging of having another show next year! I want to thank NAS Brunswick and their PAO JOC Luis Luque for the media access on Friday.