Greater Binghamton Air Show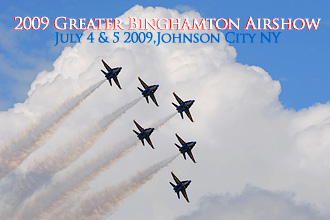 2009 Greater Binghamton, NY. July 4-5, Blue Angels
This was my first trip out to Binghamton NY and the 6 hour drive went by easily. Because the air show is held at a civilian airport the show doesn't start 11 so flights can come in. The Army's Golden Nights were the opening act for the morning jump. The following act were the Firebirds xTreme Aerobatic team flown by Jack Knutson and Rob Holland
Don Baily then took to the sky in his L-29 which was followed by the B-25 and newcomer to the air show scene for me, Kendal Simpson in his Blue and Red Pitts Biplane. Carol Pilon performed her wing walking talents with Rob Holland at the stick. Jack Knutson, Matt Chapman and Rob Holland all took turns at show center with Rob Holland swooping below the runway which shocked crowds, the other side of the runway had a hill which couldn't be seen.
The West Coast Viper team went up next and with them parked at show center with all the other acts it provided some very nice photo's. The AV-8B II Harrier demo I think is just a crowd favorite, it's so loud which gets everyones attention then they become mesmerized by it's hovering. Fat Albert took off Saturday using the JATO rockets which aren't used at every show because of the limited supply, I believe they're only 4 shows this year where they'll be used. The Blues took to the sky with the opposite end take offs. The late afternoon lighting gave us some beautiful light to capture their tight formations.
I would like to thank David Shultz Air Shows for the chance to be part of the photo pit. I hope to be able to visit this show again in the future.