2011 Portsmouth Air Show at Pease International Airport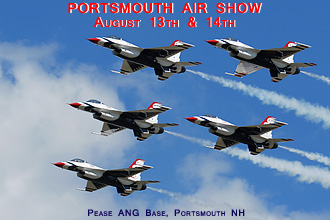 It has been over 20 years since the return of the Air Force demo team, the Thunderbirds returned to the former SAC Air Force Base at Portsmouth NH. Even though Portsmouth has an ANG unit, the 157th ARW has no affiliation with this show. It's a civil run show which charges $25 at the gate for adults and $20 for kids ages 6-11, on top of this is a $10 parking fee. You were able to save $5/ticket if purchased before 8/12. I have a hard time paying for an air show for myself and 2 boys with less flying acts, terrible lighting for photography(not shows fault) and only flew from 11-4 with 15 min gaps between acts. Other New England shows only ask for a $10 donation like Rhode Island, Westfield and Westover but are run by the guard units station there.
All my shooting for this show was shot from the Pease Golf Course right off the South end of RW34. I want to give them a HUGE Thank You for allowing photographers and air show fans to use their parking lot this year. Last year the show and course roped off these areas which made photography very difficult and we had to sneak on. This year they opened the doors to us photographers and fans. The one downfall of being here instead of being on base is you can't really get any good shots from the smaller acrobatic acts because they stay in front of the crowd line. This year we saw Sean D. Tucker, Michael Goulian, Team Areoshell which fly T-6 Texan's, the Northeast Raiders flying the YAK-52's and Nanchang CJ-6's. Jason Newburg is a new performer for me, he flys a Pitts Viper.
Other acts were Dan McCue in his F-4U Corsair and flying a P-51 Mustang and the home unit did provide a KC-135R for a few fly bys. I wish they would have put up a fighter to fly formation to give the crowd a better example of how they refuel air force aircraft instead of just having the boom down for a fly over. The US Army Golden Knights were the show's parachute demo team and they had F-18C Demo demonstration
This shows two big acts for me were the Thunderbirds which did a great show as always and a team I've never seen before. The Heavy Metal Jet Team, they are a L-39 5 ship demo team painted in Arctic gray camo scheme. They fly mostly a 4 ship diamond with a solo and just recently added a Mig-17 flown by Dale "Snort" Snodgrass. The L-39 pilots are made up of Lt. Colonel Jerry "Jive" Kerby, USAF (ret.), Captain Dale "Snort: Snodgrass, USN (ret.), Jared "Rook" Isaacman, Doug "H-Dog" Demko, Major John "Slick" Baum, USAF, Major Sean "Stroker" Gustafson, USAFR, Commander Mike "Buick" Eberhardt, USN (ret.)