Rhode Island Air Show 2010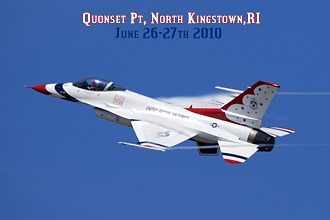 2010 North Kingstown, RI. June 26-27, Thunderbirds
2010 celebrated the 20th Aniversary for the Rhode Island ANG base hosting this Air Show. This has always been the show that brings the New England Air show enthusist out of hybernation. The weather on Fri and Sat was beautiful, with Fri winning out over the two with nice blue skies and white puffy clouds
The acts this year consisted of Michael Goulian in his newly painted ASB.TV Extra 330. Other civilian acts were John Klatt sponsor by the Air National Guard where John is still a weekend F-16 pilot. Sean D Tucker wowed us with his Oracle Challenger Bi-plane Pitts Special. Something new this year for Rhode Island was the Red Bull Air Force Sky Diving Team and the Chuck Aaron piloting the Red Bull helicopter. Vandy 1 is a L-39 sponsored by the Wounded Warrior Project.
On the Military Demo side we had the East Coast A-10 Demo team piloted by Major Johnnie "Dusty" Green, they are based out of Pope AFB. With New England loosing 2 A-10s units to BRAC closures, it was nice to hear the sounds of the Hog in our skies again. Following the A-10 were the VFA-106 Gladiators from NAS Oceana in the F-18C Hornet. The home unit, 143rd Airlift Wing, took to the sky in their C-130J Hercules for it's own demo and then again in the Combined Arms Demo. This year's jump team were the USASOC Black Daggers.
The field was then cleared for the headliners of the 2010 Air Show, the US Air Force Thunderbirds. The 6 Thunderbirds in their Red, White and Blue F-16s took over the air show box displaying their talent of keeping 3 ft between these 6 aircraft while pulling over the top precision manuevers. It was another great show performed by the Thunderbirds who I got to see close out the season last year at their home, Nellis AFB.
I would like to thank the 143rd AW and their Public Affairs Office for their hospitality on Friday and Sat.