Westfield Air Show 2023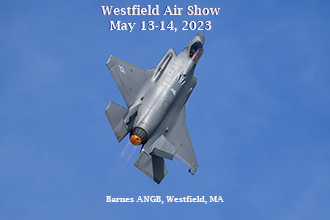 Barnes ANGB, Westfield MA, May 13-14th, 2023
I was lucky enough to have been asked to shoot this air show for Pratt & Whitney as they provide engines for the F-35, F-15 & the KC-46's. This allowed me to be a part of an interview with BEO and then took a group shot of P&W employees in front of BEO's F-35 after her demo on Sat. It was truly an amazing experience for me.
Due to Covid and operational duties, it's been 6 years since the last air show held at Barnes in 2017. Due to that and how the Blue Angles and Thunderbirds now schedule their shows 2 years in advance this show didn't have your main headliner demo team. They even lost the F/A-18E Super Hornet Demo a few weeks prior to the show which hurt. But even with all these difficulties the 104th FW still put on a great show. The show started with the Golden Knights jump team and the National Anthem. Once they were all down safely, the home unit flew 4 F-15C's in a demonstration with a good number of afterburners blazing. They would make multiple passes of low approaches.
Then the Jet Fire Truck did a small show with Rob Holland. Greg Coyer and his T-33 Shooting Star took to the skies. A Marine CH-53E Super Stallion was next to take off and did a few passes showing off the size of the helo. It was from HMHT-302 out of MCAS New River, NJ. A Rhode Island C-130J-30 went up and made a few passes before landing to show the short distances needed to land and take off. 2 F-15's went up again and met up with a KC-46A from the 157th ARW out of Portsmouth and did a mock refueling pass. Then the 2 jets made multiple high-speed passes before landing. Once they cleared the runway, the KC-46A came in with the boom down and then came around and did a low approach about 30 ft off the ground all the way down the runway.
Up next was the RB-25 Miss Hap and a P-51D Mustang named Jacqueline. Each made single passes, then came together and made some more passes in tandem. 2 A-10's from Moody AFB were next on the schedule to perform a CAS Demo. The 104th used to have A-10's prior to getting their F-15's.
A C-17 did a flyover from McGuire, then Greg Coyer and the Jet Truck went back out. Rob Holland came back out and did his full show. The show closer was the F-35A Demo flown by Kristin "BEO" Wolfe. The 104th FW had announced earlier that they are transferring into the F-35A to replace their aging F-15 Eagles. She did not disappoint in her performance of showing what the F-35A can do and certainly was a crowd pleaser.