Westover Air Show 2008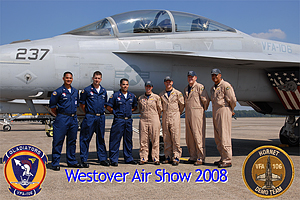 2008 Westover MA. September 6-7, featuring USAF Thunderbirds
The Greater New England Air Show was held at Westover ARB in Springfield MA, home of the 439th AMW. The acts performing at this years air show were the C-17 Demo West Coast Demo team, part of the 452nd AMW, based at March ARB. A C-5 from the home unit gave some passes in a very cloudy Sat morning. The East Coast Harrier Demo team of the VMA-231 Spades based out of Cherry Point, NC preformed it's crowd pleasing performance. Ear plugs are a must when up at the fence when the AV-8B shows off it's hovering ability.
The Wing Walking talent of Carol Pilon, owner of Third Strike Wingwalking took center stage with logo acrobatic pilot Rob Holland followed by the Iron Eagle acrobatic team. The next act was one of the crowd favorites, the F-18F Super Hornet demo team of the VFA-106 Gladiators, based at NAS Oceana Va. Even though it was cloudy the humidity was out which gave the crowd some great opportunity to catch some sweet vapor shots.
Piloted by "Flag" and Backseater "Menudo", they were able to get a full cone as they screamed by show center. I was given the opportunity to spend some time with this Super Hornet team on Friday. This gave me a great chance for an upclose view of the start up procedures and all the work that normally goes unseen while other acts are flying. I would like to thank Page "PIE" Felini, and the whole Super Hornet Demo team for the generosity during my time on the ramp with them.
The closing act was the USAF Thunderbirds, with the low cloud cover and incoming weather they were able to go up and perform 3/4's of their show before they had to put down prior to the rains coming in. Of course Sunday's weather was far better, Les Shockley's truck did roll at the end of his run after one of the chutes failed to open properly and caused him to drift off the runway. Because of all of his safety features, he was able to walk out unharmed.
I would like to thank the Men and Women of the 439th AMW, PAO Andrew Biscoe for their hospitality and access for the Friday practice.