157th ARW says goodbye to the KC-135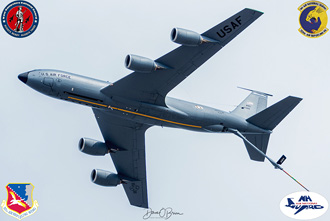 On March 24th 2019, a cloudy Sunday in Portsmouth NH, the final KC-135R Stratotanker departed Pease Air National Guard Base for the warmer climate of Phoenix, AZ. It will now be part of the 161st Air Refueling Wing, whose home base is at Goldwater Air National Guard Base at Phoenix airport.
The final tanker, 57-1419, call sign PACK 157 departed at 2:19 (1419 military time). Hundreds of people lined the fence to send them off which has been such a huge part of the 157th and Portsmouth. It took off and made one final pass with its boom extended and then left.
The KC-135 Stratotanker has been at Pease for 60+ years and 3 different engine variants.. From when I was a kid the A model flew back in the early SAC days starting in 1975, then they converted them to E models in 1984 and finally R model in 1993.
It will take until Nov before the new KC-46 Pegasus comes in and starts a new generation of pilots and boomers for the 157th. Until then, the 101st ARW in Bangor ME will have to handle the majority of the North East Tanker Task force duties. We'll still see some transient tankers flying out of Pease until the 157th can stand up again in their new tankers.