157th ARW converts to the KC-46A Pegasus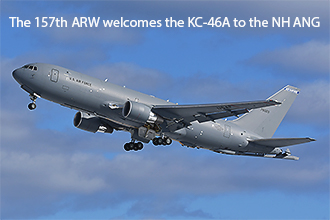 157th Air Refueling Wing Welcomes the KC-46A to the NH Air National Guard
The KC-135 Stratotanker has been at Pease for 60+ years with 3 different engine variants. The A model flew back in the early SAC days starting in 1975, then they converted them to E models in 1984 and finally the R model in 1993. That rein ended on March 24th, 2019.
Pease and the 157th ARW welcomed their first KC-46A, known as the Pegasus on 8/8/19, 17-46029 with the call sign PACK01 flew into Pease at 5:25pm. The 157th welcomed their new tanker with 2 fire trucks spraying their water cannons over the top as it rolled on the ramp. The next day, 17-46034 flew in as PACK02.
The NH ANG received 12 total new tankers: 16-46018, 16-46019, 18-46050, 16-46015, 18-46047, 16-46013, 18-46053, -18-46051, 18-46054 and the final Pegasus flew in on 2/5/2021 as FURR13; 16-46020.
The NH ANG plays a huge roll in the Tanker Task Force in New England along with the 133rd ARS still flying the KC-135R for the ME ANG out of Bangor ME. These 2 units do a lot of the refueling for both US and Foreign aircraft coming to the US and heading back overseas.
While I do miss the KC-135R, I'm glad to be shooting a new airframe for the years to come. The NH ANG is hosting its first air show with the new tanker this September 11-12th 2021 which will host the Thunderbirds.
https://thunderovernewhampshire.com