2015 Leapfest International Parachute Competition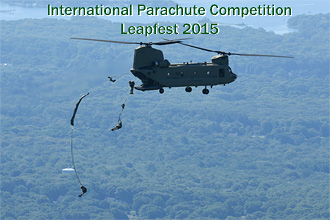 2015 Leap Fest Aug 1st, 2015, East Greenwich, RI
It was another successful Leapfest for the RI ARNG, this year marked its 32 annual event. Leapfest is an International event with teams showing up from The Netherlands, Germany, Italy, Canada, the Republic of South Africa and the United Kingdom.
Fifty US and International Parachute teams are using the MC-6 parachute team up into 4 man teams. They jump out of a CH-47 Chinook helicopter at 1500 feet, their main adjective is to land as close to one of the 3 X's laid out in a field. The clock starts for each jumper as soon as they hit the ground, then they need to run and touch one of the X's in the field to stop the clock. The team w/the lowest combined time wins the event and even an individual award is presented.
Leapfest is the longest and largest standing international static line training event and competition. It's always open to the public to watch the Men and Women in action.
Some stats from the Leapfest Facebook page from this year: Total Number of Jumpers: 244 Total Number of US Jumpers: 146 Total Number of Foreign Jumpers: 98 Total Number of Chutes used: 856
The Winning team was Delta Company 2nd BN 106th SOAR (A) Ft Campbell KY Fastest Individual time: 12 (Minden) Air Assault Battery, 12th Reg Royal Artillery, UK
More can be found here on the Leapfest page https://www.facebook.com/Leapfest?fref=ts
Special Thanks to the Pubic Affairs department of the RI Guard.