Red Flag 21-2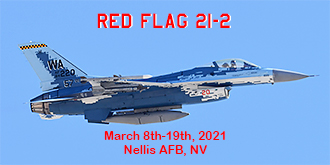 RED FLAG 21-2 Nellis AFB, Las Vegas, NV March 8th – 19th, 2021
RED FLAG is the Air Force's premier air-to-air combat training exercise which brings units from allied nations to Las Vegas to safely train in air combat sorties. A typical RED FLAG consists of every type of US aircraft, from fighters & Bombers such as (F-15's, F-22, F-35, F16, B1B, B-2's, B-52H), electric warfare planes like (EC-130H, EA-18G & F-16CM), airlift support (C-130 & C-17), search and Rescue (HH-60G, HC-130J) refueling aircraft (KC-130, KC-135, KC-10) and Command & Control platforms (E-3, E-6, E-8, & E-2). The ANG and Reserves play a big part in RED FLAG exercises. RED FLAG exercises are held 3 times a year. Usually, Feb, Mar and July where temps will be above 100 degrees. Next time I go out for Red Flag, I'm going to try the 2nd week as both first weeks the weather has been very windy and cool.
Because COVID was still in play, the only foreign aircraft that were allowed in for this was the E-3 AWACs.
I was outside Nellis for 4 days, 3/8-3/11. Their runways are 21 L&R which takes off over the city, and 3 L&R which takes off towards the racetrack. Typically, aircraft would launch around 12pm – 2pm, when standing along the edge of Las Vegas BLVD N, which is along the Raceway the aircraft will break over you which they call "flexing" due to the wings of the jets flexing due to the G's of the pull. Sadly because of the weather my week, I saw very little flexing as most launches were from 21. The times they used 3, they flew straight out.
Recoveries can be on either runway as well, depending on wind direction. We had jets landing switching runways which makes everyone scatter to get down to the other end to catch the arrivals. E. Cheyanne Ave is the road to be at for aircraft landing RW3, just don't stand along the side of the fence as the Air Force will ask you to cross back over.
If you can have a bad Red Flag experience, I would say this was a one of those times. The Flexing is the most exciting time in my opinion. The wind wouldn't die down enough to allow launches off RW3. But watching the B-1's launch, especially at night is amazing. So loud and to watch those burners at night is like nothing else.