F-35 Arrival for the Vermont ANG - 9/19/19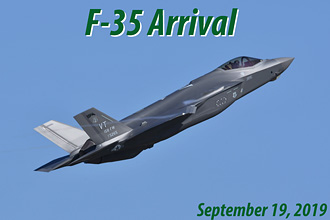 Five months and thirteen days after the final F-16's left Burlington to go to the NJ ANG, their next fighters, the F-35 Lightning II arrived. Maple 91, flown by Commander Lt Col. Anthony Marek and Lt Col. Nathan Graber of the 134th Fighter Squadron. With all the negative publicity the local media gives the F-35, there were only supporters along the fence of Burlington airport cheering on the 2 pilots as they made a few passes over the airport before landing.
It was an exciting day for the Vermont Air National Guard and I was glad I was able to witness it. The 134th Fighter Squadron is scheduled to receive two fighters a month till they reach their twenty air frame count.
The Vermont Air National Guard, known as the Green Mountain Boys have flown 8 other aircraft prior to receiving the F-35. They started out back in 1947 flying T-6 Trainers and P-47's then transitioned to the P-51 Mustang in 1950. In 1953 they moved into the T-33 which started their conversion into the F-94 Starfire. In 1958 the F89D Scorpions replaced the Starfires until 1965 when they transitioned into the F-102 Delta Dagger. 1980 started the change into the F-4D Phantom, a 2 seat, dual engine fighter. The F-16's came to Burlington in 1986 and flew over 30 years over the New England skies till April of 2019.
On Dec 5th, 2019 3 new F-35's arrived. 17-5277, 17-5278 & 17-5280 to bring the units total to 5